Last night
I posted the Hato Bus (here)
, and here is now the other new model from Tomica in May: A Suzuki Carry. We had seen this cab before, but with less realistic things on the back. Now it looks best. I didn't notice at first, you have to paste stickers! And for that you have to choose if you want to have a fish-carrying Carry, or one with vegetables.
I think fish is more traditionally Japanese, so I chose that (although now that I think of it, maybe they would be carried on some sort of refrigerated truck in real life?). Anyway, I took most pictures before noticing the stickers... I did think it looked too plain.
It has the Suzuki badge tampo on the front, but since it is also silver, is very difficult to see and more to picture. I must say the previous generation Carry from Tomica was a little smaller and looked better, in my opinion.
This is the sticker sheet (from 829Japan).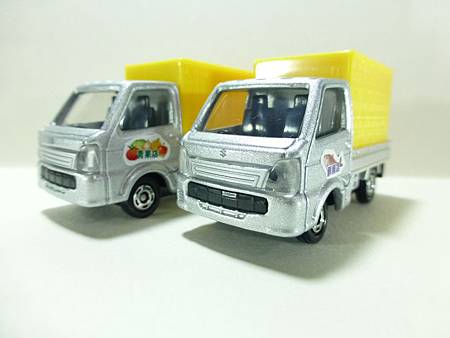 Pictures of the real thing (well, not exactly, but grey and with a yellow cargo). Via:
kurumaerabi.com
.
This was the new Carry in 2013.